... Lost Whilst Driving to Sea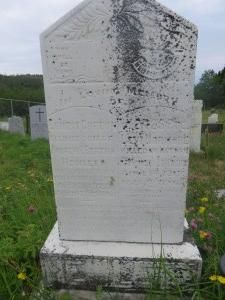 I was fortunate to have visited the tomb of Mahatma Gandhi. Inscribed on the slab of black marble at Raj Ghat, New Delhi, are the words, Hey Ram, roughly translated as 'O, Lord.' They were the last words spoken by the great man as he was felled by an assassin's bullet. Gandhi's epitaph may hold the record for brevity.
Always, the lines etched in stone to mourn someone's death are cryptic, with an obscure universe of meaning hidden in snippets of elegant poetry or brutal prose. By their very nature, they inspire us to rummage through our ancestral past to unearth the secret stories.
Two such epitaphs appear on a single weathered monument erected in the old churchyard between Quenton's Cove and Ward's Harbour, Newfoundland, in 1933, by Andrew and Bertha (Normore) Hewlett of Long Island, Notre Dame Bay. Bertha was the daughter of John and Dinah Normore of Sunday Cove Island.

On the family tree, Andrew is my first cousin, three times removed. We shared common ancestors, Robert and Mary (Heath) Hewlett, two of the immortals who made the ancestral leap across the Atlantic from the West Country of England in the summer of 1835.
In Loving Memory.
The cemetery is tucked into a small wooded valley where the souls of the dead enjoy the soothing breezes from the ocean close by.
On the right column of the monument below the crest of the Royal Newfoundland Regiment, the words: No. 2425 Pte. Levi Normore, Killed in Action at Monchy-Le-Preux, April 14, 1917. Aged 27 Years. He Gave His Life For His Friends.
The record left behind by relatives, census makers, clergymen, and government agencies reveal a complex story.
Levi, born in 1890, to a single mother, Annie-Eliza Caravan, survived childhood diseases and the first twenty months of infancy with his mother and his grandparents. Then, in a twist of fate, his mother decided out of necessity to marry my great-grandfather, James, who six months earlier had lost his first wife, Martha to Diptheria. 
In the marriage bargain, Annie-Eliza sacrificed Levi. She offered him for adoption to keep the peace--at James' insistence.
John and Dinah Normore needed the security that a young son would offer them in their senior years. They adopted the infant and Levi Caravan became Levi Normore, a custom adoption without paperwork, common practice at the time.

The Normore's 12-year-old daughter, Bertha, and her new brother developed a special bond.
Levi grew into a young man at a time when the dying embers of nostalgia for the old country still glowed faintly. Looming war clouds in Europe after 1912 stirred those distant memories of the ancient homeland and fanned the flames of patriotism for King and country. Our ancestors discovered that their enthusiasm for war matched that of their relatives across the sea.
In the temper of the time, becoming a soldier was a natural choice for Levi.
Unlike most of his peers, he was not wedded to the fishery. By his early twenties, he had already experienced the hell below ground in the grim coal mines of Cape Breton as he searched for a future away from the feudalism of the fishery. But he had made a devil's choice and discovered that bondage to a coal baron was no better than servitude to a fish merchant.
On his return to Long Island, he courted a young woman and they set a marriage date. Across the harbor in Cutwell Arm, Levi began work on their dream home. In a break from traditional construction techniques on the island, the unique building featured two brick chimneys and a concrete foundation.
The conflict overseas intervened.
He didn't have to volunteer. At twenty-six, he was beyond the normal enlistment age.
Levi put his planned marriage on hold, winterized his newly built home, and went to war on April 4, 1916.
Just over a year later, in the dim light of a cold Saturday dawn on April 14, 1917, Levi and his company charged towards German lines on the high ground just outside the French village of Monchy-le-Preux. German defenders caught Levi's battalion in a carefully laid trap. Aside from the few who became prisoners-of-war, the battalion was annihilated. Levi's remains were never recovered.
Back home on Long Island a year later, another battle played out over Levi's estate between Annie-Eliza, his natural mother, and the Normores, his adoptive family. The competing claims were finally referred to the Department of Justice which ruled in Annie-Eliza's favor. She received a cheque for just over sixty-five dollars, Levi's service gratuity.
In the coming years, Dinah Normore was reduced to poverty and survived on a poor pension of $2.30 per month.
In 1920, citing the loss of her son, Levi, who had been her only support, Dinah asked the Department of Militia for a Separation Allowance. I have been directed to state, came the reply from the government, that this allowance cannot be granted to you because your dependence on your son is not shown...
In 1923, the Royal Newfoundland Regiment forwarded a memorial plaque and a portrait of Levi to Dinah Normore as next of kin to a soldier killed in the Great War.
                                                                ***
On the left column of the monument the inscription: Ernest Gordon, Beloved Son of Andrew and Bertha Hewlett. Killed by Falling Over a Cliff. August 2, 1929. Aged 13 Years and 10 Months.
The description of the cause of death reminded me of an anecdote about the famous writer, Ernest Hemmingway. On a ten dollar bet, in a Brooklyn bar, sometime in the 1920s, he supposedly penned the shortest saddest story ever written: For sale. Baby shoes, never worn. Just a half-dozen words that needed only some quiet reflection on the implied tragedy of a tiny life cut short and happiness denied.
Hemmingway was likely inspired by epitaphs he had seen in cemeteries of the day.
Killed by Falling Over a Cliff would rank favorably with Hemmingway's classic.
The tragic incident had taken place at the Grey Islands off the Great Northern Peninsula of Newfoundland. Grey Island Harbour was a favored fishing station for Long Island fishermen in the late 1920s and into the 1930s. Boys as young as eleven years took their place alongside their fathers as part of a fishing crew. At thirteen, the boys were expected to assume adult responsibilities and by sixteen were considered full-time sharemen.
In 1929, Andrew and his son, Ernest, were members of Skipper Joe Short's crew.
August 2, 1929, was a Friday, normally a long workday in the hectic life of a fisherman, but for whatever reason, Ernest had gone to the cliffs south of Grey Island Harbour to gather eggs from the nests of seabirds which flocked to the area during the breeding season.
It was there that his friend from Beaumont caught up to him with a love letter from a special girl in Ward's Harbour. As he reached for the letter, Andrew, slipped, lost his balance, and fell to his death.
Bertha's grief would last forever.
Weep not Dear Parents, Brothers and Sister Dear
Disturb not Our Rest.
SOURCES:
Files of the Royal Newfoundland Regiment. The Rooms Provincial Archives.
1921 Census of Newfoundland. 
Cemetery Transcriptions, Long Island, Newfoundland.
With special thanks to Mr. Job Burton (now deceased) who told us stories of his days as a fisherman at the Grey Islands.