The Last I Ever Saw of Him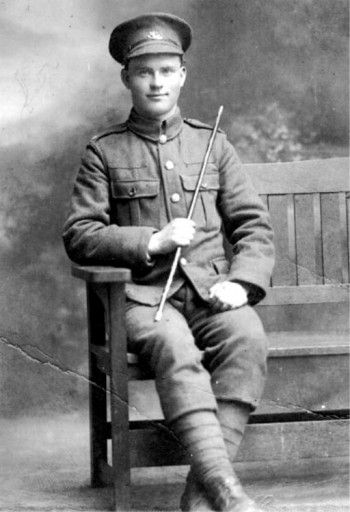 Like many other young men in the small communities on Long Island, Notre Dame Bay, Andrew Burton desperately wanted to join his friends overseas with the Royal Newfoundland Regiment. On his 19th birthday, May 4, 1917, he enlisted and began his military training in St. John's. Private Burton received regimental number 3776. His enlistment record indicated that he was 5' 7'' and weighed 126 pounds.
Andrew's grandparents who had raised him from birth were not pleased with the young man's decision but in the end, they put aside their misgivings and gave him their approval. Their grandson was their security in their senior years and if worse came to worse, they could ill afford to lose his support.
As a private in the regiment, Andrew received $1.10 per day in compensation. Of this amount, he allocated 60 cents to his grandfather.
After basic training in St. John's, Andrew shipped overseas to Hazely Down, base camp for his regiment in Hampshire, southern England, where he and eighty other young men of the 40th draft received more intensive training in preparation for the front lines in France and Belgium. On March 27, 1918, they embarked for Rouen, across the channel in France, to participate in 6 days of a punishing routine that would prepare them for trench warfare and the unimaginable violence of battle.
On April 4, Andrew joined his regiment in the field where they occupied a well-entrenched position in front of Passchendaele, Belgium. It was here that he joined his good friend from Long Island, Joseph Paddock, who had enlisted several years earlier.
Private Burton had just five days to adjust to his new surroundings when the Germans unleashed Operation Georgette aimed at driving through the allied forces in Belgium and marching all the way to the English Channel. General Ludendorff, Chief of the German General Staff, had planned this operation as the second phase of his last gamble to achieve final victory in Europe.
On April 9, the Germans began their assault with a tremendous artillery barrage followed by storm troops advancing all along the front. The allies, including the Royal Newfoundland Regiment, were unable to withstand the onslaught and fell back about 3 miles.
For the next 3 days, the allies mounted a stubborn resistance and slowed the German advance. On April 13, the regiment had dug in at a rail crossing known as De Seule. Despite heavy casualties, the Newfoundlanders maintained their position. Their brave stand came at a huge cost. A platoon of 'C' Company was wiped out. The numbers of wounded mounted as the enemy artillery took its toll. 
One of the missing was Andrew Burton. He had seen just 9 days of the war.
Back home on Long Island, George Burton heard nothing of his grandson until May 6 when he received a telegram informing him that Andrew had been listed as wounded on April 13th. On May 23, a second notification updated this status to wounded and missing. Finally, on November 12th, one day after the war officially ended, a third telegram arrived to inform the grandparents that Andrew who had been reported as wounded and missing, was now presumed dead.
And there the matter rested until Joseph Paddock returned from the war in 1919 and was confronted with rumors about the fate of his good friend, Andrew. Some said that he was still a prisoner of the Germans; others, that he was in a convalescent home in England. Out of frustration, Paddock fired off a letter to J. R. Bennett, Minister of Militia, asking him to put an end to the idle speculation.
"We were together for some time in France," said Paddock, "well, till the 13th of April, 1918, when he was severely wounded, and I helped carry him to an advanced dressing-station being the last I ever saw of him."
Many of the advanced dressing-stations and field hospitals became artillery targets of the German forces.
On July 5, 1919, George Burton received a cheque from the Department of Militia in the amount of $18.18 "being the balance of the estate of the late Pte. A. Burton, due to you as administrator."
On September 20, 1921, He also received the Victory Medal and the British War Medal awarded to his grandson.
 ********************************************************************************************************
The Soldier Who Died Twice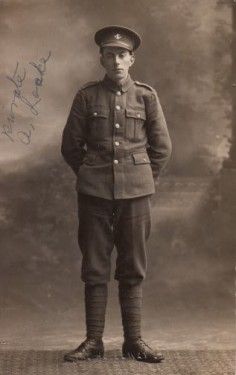 Of the many tragic stories to emerge from the great war, none is stranger than that of Pte. Adolphus Locke. Adolphus was born at Pilley's Island, Newfoundland on June 25, 1896, to Phillip Locke and Georgina Dean. Georgina died on October 2, 1909, when Adolphus was 13 years old. Shortly thereafter, Emanuel and Martha White adopted him. Whether this was a formal or informal adoption is unclear from the records.
Adolphus volunteered for the First Newfoundland Regiment in December 1916 and after training in Scotland he joined his regiment in the field in June 1917. In the fall of 1917, the Newfoundlanders were engaged in some of the nastiest fighting of the war at the third battle of Ypres in Belgium.
At 5 am on October 9, 1917, the First Newfoundland Regiment advanced on German lines along the Broembeek River. Struggling through a sea of mud, the young soldiers met fierce resistance from the entrenched enemy.
At the end of the day, after little gain, the Newfoundland Regiment had suffered 194 casualties. Sixty-seven of those died. Adolphus Locke was severely wounded in the left leg by enemy machine-gun fire.
Adolphus spent the next ten months at Footing Military Hospital in England before being medically discharged and repatriated to Newfoundland where he arrived on or about October 12, 1918, via Montreal. 
On his arrival in St. John's, he had been admitted to the General Hospital for further treatment before he was to be sent home to Pilley's Island. Records indicate that he signed the papers for his formal discharge from the Royal Newfoundland Regiment on October 15. At this point, his story takes a strange twist.
Records of the regiment clearly state that Adolphus died at the General Hospital on the second of November after he contracted Spanish Influenza, a deadly pandemic then sweeping the globe.  His burial site is listed as Mount Pleasant Cemetery where a grave marker indicates his final resting place.
Other records raise questions about this scenario. A letter from Emanuel White, the adoptive father, indicates that Adolphus arrived home at Pilley's Island on October 23, 1918. He was already suffering from Spanish Influenza and despite the best efforts of Dr. Gillam, Adolphus passed away on the third of November at the White home.
Adolphus Locke was buried beside the small Methodist church (now a heritage site) in Pilley's Island. His resting place is marked by two headstones. One donated by the regiment and erected by his father, Phillip, indicates the sacrifice of the young soldier. Adjacent is another headstone dedicated to Adolphus White, adopted son of Manuel and Martha White who died on November 3, 1918. Adolphus White and Adolphus Locke are one and the same person.
To add further confusion to a tangled story, a letter written in 1919 by Reverend Mouland, Methodist Minister, Pilley's Island, indicated that Adolphus is buried in the old cemetery at Head's Harbour--several kilometers from Pilley's Island.
The Great War ended on November 11, 1918.
Postscript: As one of 'Coaker's Recruits,' Adolphus Locke's name is engraved in stained glass in a window of Holy Martyr's Church in Port Union, Newfoundland.