Little Flowers of Love, That Blossomed but to Die...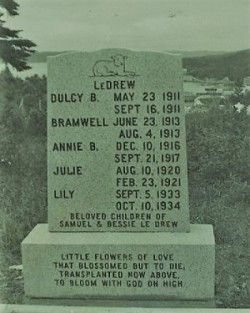 Stories of survival, determination, and tragedy dominate our history. This one begins at the tail-end of the nineteenth century and continued into the waning years of the twentieth. On June 29, 1883, in the booming mining town of Little Bay on Newfoundland's northeast coast, a baby boy was born to Ursula Newman, daughter of George Newman and Elizabeth Fudge of Triton.
Single-parenthood was a rather daunting situation for a young mother in the 1880s.
Sixty miles to the southeast in Change Islands, Tommy Ledrew and his wife, Mary Ivany, were grieving the loss of their youngest child, nine-year-old Samuel Martin, to drowning a year earlier.
A terrible loss. The youngest son was insurance against the uncertainties of old age.
They decided to move to Long Island in Notre Dame Bay where the fishery was less crowded and where they could make a new beginning. By chance, they heard that the infant in Little Bay was available for adoption. The rest is history, as they say--family history. Tommy and Mary named him Samuel Martin after their lost child.
It was a custom adoption without formal paperwork. In the coming years, Ursula visited the family regularly.
When she married Hezekiah Simmons on November 28, 1887, the wedding, conducted by Rev. H. C. Hatcher, took place at Tommy Ledrew's home at Lush's Bight. Tommy's brother, Phillip, and his wife, Phoebe, from Pilley's Island, witnessed the event as undoubtedly did young Samuel.
Samuel grew up at a time when the fishery offered the only opportunity for a livelihood. He looked elsewhere for a lifelong vocation. In 1907, when he married Bessie Raines (pronounced 'Rines' in the thick West Country accent of Long Island--later changed to 'Ryan' in church registers) he was working on the construction of the new paper mill in Grand Falls which opened two years later.
Bessie's grandparents, William Raines Sr., and Sarah Heath, were among the small group of permanent settlers from the West Country of England who came to Ward's Harbour on Long Island around 1830.
Samuel's connection to the paper company helped him to a career as manager of various logging camps feeding timber to the mill in Grand Falls. His cash income gave him a quality of life and independence uncommon among his neighbors.
His standard of living, however, did not insulate his young family from tragedy.
Some sixty years later, the extent of the heartbreak in their lives dawned on us when Grandmother and Grandfather erected a memorial stone on the site where five of their children were buried. For me, as a child, there was the shock of learning that so many of my mother's family had died. Death was always something that happened to other people.
Dulcy B. survived for just five months in 1911, Bramwell, one-and-a-half months in 1913. Annie B. lived for nine months in 1917. Julie, in 1921, was just six months old. We will likely never know the precise cause of their deaths.
Parish records, vital statistics, and rudimentary medical histories shed some light on those times.
The historical record indicates that scarlet fever was common, as was measles, mumps, and chicken-pox, croup and diphtheria--no vaccines had yet been discovered, antibiotics were 30 to 40 years down the road, medical care was non-existent.
'Died from la grippe,' read the clergyman's death record for Annie B., influenza by another name. 
Patent medicines became the thing. Hucksters, feeding on the fears of ordinary people. Natural treatments, they said.
C.C. Richards & Co pushed Minard's liniment as the cure-all for diphtheria, whooping cough, asthma, bronchitis, cholera, and for an added bonus, it could make hens lay.
In a freak accident in 1933, the infant, Julie, at thirteen months, suffocated when a cooked navy bean wedged in her air passage. Nothing could save her.
Still, ten children survived into adulthood. Eric, born in 1908; Joshua, 1910; Robert, 1914; Mabel, 1916; Nellie Amelia, my mother, in 1919; Selby, 1922; Ralph, 1924; Otto, 1926; Phyllis, 1929; and Ruby, born in 1931--twenty-five years of child-bearing for Grandmother.
Just when they thought the dark times had passed, came another cruel blow when the eldest, 30-year-old Eric, disappeared in 1938 leaving a goodbye letter telling them he would not be in touch for five years. He did not disclose his destination. Gone, but he lived on in their memories.
His brothers and sisters did their best to find him. He remained an elusive phantom--showing up in Canadian border registers at Sydney, Nova Scotia in the mid-twenties; port-of-entry records in New York where he was listed as the purser on the freighting schooner, Ester Adelaide, in the late twenties; Halifax during the Great Depression; then into the void.
His goodbye letter offered a tantalizing clue--verbatim instructions provided by those recruiting young men for the International Brigades to fight against fascism in the Spanish Civil War. Tell no-one, not even your family, where you are going.
It was illegal, of course. Canada's parliament had passed legislation to prevent young men from participating in the struggle.
Perhaps the cruelest part for my grandparents was having to listen to stories about Eric's whereabouts, hypotheses thrown out to explain the unexplainable; that he may have been seen on a Swedish freighter docked close by; that he was serving a prison term in the US for smuggling during the prohibition era; that he had been killed in action with US forces during WW2. None stood up to investigation.
What really happened? We will never know with 100% certainty. That bothersome 1% doubt often confounds our search in the dark corners of the past.
Sammy and Bessie were larger than life, Grandmother, a born story-teller, with tales of the wild west involving her sister, Lucy-Mae, and Lucy-Mae's partner, Joe Morgan--Uncle Joe. A gunfight in a crowded saloon...
Grandfather was a giant in a 5' 2" frame, his mannerisms sometimes odd.
Whenever he shopped for clothing, he demanded several sizes beyond what the clerk suggested and always rebuked the man for thinking he was 'a mere boy.'
The old hag haunted his dreams all the way to the end.
Grandfather's Newfoundland pony, Bob, was as eccentric as its master, with the strange ability to calculate the precise weight of its load. If an extra pound were packed on his sled, the stubborn horse looked Grandfather in the eye, lay down on the road, and ignored all encouragement and threats until the offending weight was removed. Grandfather invariably yielded to the pony's wishes, always with the comment, "Bob, you bloody reptile."
I use the expression often.
Sources: United States Prison Records, United States Military Personnel Records, Library and Archives Canada; Spanish Civil War records, The Rooms: Census, Parish and other Records, Long Island Cemeteries, Records of the United Church of Canada, Personal interviews, The Twillingate Sun, 1883-1887.
NB: Newfoundland and Labrador's archival records are some of the best in the English-speaking world, making it relatively easy to trace ancestry to the early days of English settlement.