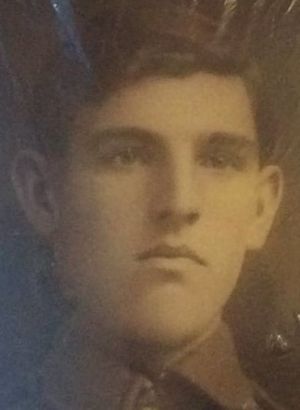 Private Nathaniel Croucher, regimental number 1495,  killed in action at Beaumont Hamel, July 1, 1916, aged 19 years
Life, to be sure
 Is nothing much to lose.
But young men think it is.
     And we were young.
                                                                         A.E. Houseman, Here Dead We Lie
Trenches, St. Johns Road, Clonmel Avenue, Beaumont Hamel
July 1, 1916, 0600-0730: General attack all along the line
0730: Intense bombardment.
0730: 86th and 87th brigades attacked 1st system of enemy trenches. Eighty-eighth brigade [NL and First Essex], under pre-arranged orders were to move forward at 0840 to attack third line system of enemy trenches. About 0820 received orders not to move until further orders. Presumably the first attack had not been successful.
0845: Received orders on telephone to move forward in conjunction with 1st Essex Regt and occupy enemy's first trench...Asked brigade if enemy's first trench had been taken and received a reply that the situation had not been cleared up...
O915: reported to brigade that Newfoundland Regt was moving off. It was subsequently found that the Essex Regt did not move until 0955 i.e after our attack had failed...
As soon as the signal for advance was given, the regiment left the trenches and moved steadily forward. Machine-gun fire from our right front was at once opened on us and then artillery fire also. The distance to our objective varied from 650 to 900 yards. The enemy fire was effective from the outset and the heaviest casualties occurred on passing through the gaps in our own front wire where the men were mown down in heaps...In spite of losses, the survivors steadily advanced until close to the enemy's wire by which time very few remained...
0945: The C. O. reported personally at Brigade Battle H. Q. 100 yards behind our firing line that the attack had failed. Shortly afterward, enemy opened an intense bombardment of our trenches which kept up for some time.
During the night and evening, unwounded survivors managed to crawl back to our own lines and by next morning some 68 had answered their names, in addition to stretcher-bearers and H. Q. runners...
Summary of Casualties on July 1, 1916:
Officers:
                Killed                               11
                Wounded                         12
                Died of wounds                2
                Missing (believed killed)  1
Other Ranks:
                        Killed                                66
                        Wounded                        362
                        Died of Wounds               21
                        Missing believed killed  209
A. L. Hadow, Lieut. Col. Commander, First Newfoundland Regiment.